What is Art Clay Silver which is now much talked about?

What is Art Clay Silver and Gold?
Art clay Silver comes in many consistencies and several for ms. each has its own use and all but one are aqueous (Water-Based) solutions of a combination of organic binders, and water. When fired at proper temperature, the organic binders and water dissipate, leaving a pure silver piece* and can be hallmarked as "SV999" or "Silver". Art Clay Silver Clay types cab be rolled, pressed into molds. Textured with stamps, natural leaves, and plates and sculpted. Except for Art Clay Silver Basic series, all shrink 8 percent when fired. The maximum firing temperature of the 650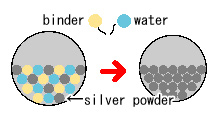 series is 780 oC / 1436 oF for 5 minutes, 750 oC / 1382 oF for 10 minutes, 700 oC / 1292 oF for 15 minutes, or 650 oC / 1202 oF for 30 minutes. For the Basic Series: 870 oC / 1598 oF for 10 minutes of 800 oC / 1472 oF for 30 minutes. For ST Series: 800 oC / 1472 oF for 30 minutes. For Gold Clay: 900 oC / 1814 oF for 60 minutes. For detailed information, Please refer to instructions and directions include in each series packages.
*becomes higher than SV990 in quality for Art Clay ST type. Overlay Silver Paste and Oil Paste
Art Clay Silver "New"

Clay type
This can be modeled in the same way as regular water-based clay. Once opened, it is susceptible to the air and must be kept moist in order to retain its pliability and workability. Use a container of water and a paintbrush to moisten any areas of the clay surface that begin to crack while working.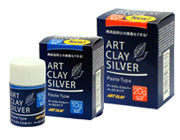 Paste type
The only difference between Paste type and Clay type is the amount of water portion in the mixture. Paste type comes in the consistency of melted ice cream and you should only transfer the amount needed from the jar to a small tray and dilute with water to create desired thickness. It is used in several ways:



As a glue to join two piece of dry or wet clay together.
As a gap-filler for pits and cracks that appear in dried pieces.
To attach silver findings (screw eyes, bailbacks, brooch findings, etc.) to dried or wet clay pieces. During firing, the normal contraction of the clay bonds the findings.
When applied in separate layers onto organic forms such as leaves, dried flowers, paper-origami, etc, the Paste type creates a perfect impression of the form.
Syringe type
Syringe type is 10gm of Art Clay Silver in a pre-loaded syringe. Syringe type comes packaged in three ways: with color-coded tips (blue, green and gray), each an increasingly larger diameter; a one tip (green) nozzle; and without any tips, purely a refilled syringe. Each of the tips is reusable and only needs to be purchased once. The diameter of each syringe nozzle is; Blue Nozzle: 0.41mm, Green Nozzle: 0.84mm, and Gray Nozzle: 1.19mm. The consistency of Syringe type is totally different from that of Paste type and it is not paste in a syringe. Syringe type is thicker, more controllable. It is used in several ways:

To decorate pieces, much like using cake decorating tips. Lines, filigree, faux cloisonne borders, and even hollow balls can be made with Syringe type.
As a repair glue to fill cracks and gaps.
To attach findings to wet or dry clay pieces.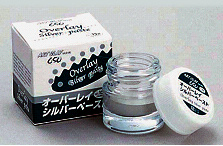 Overlay Silver Paste
It is specifically formulated to bond to non-porous or glazedsurfaces such as ceramic, porcelain, and glass. This product can be used in a variety of ways:

Paint directly, full strength, onto bisque, glazed porcelain or glass piece.
Used in a technique called graffito, whereby a thin layer of Overlay paste is applied to the glazed porcelain or glass, allowed to dry, and a pointed instrument used to scratch a design into the layer. The porcelain or glass beneath to appear. It is similar to stencilling. Fires at 650 / 1200 for 30 minutes.
Art Clay Silver ST Series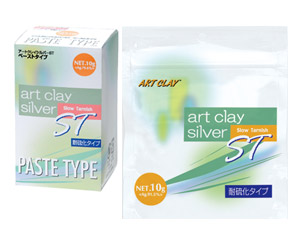 Premium Silver Clay ST series comes in basic three forms, Clay type, Paste type and Syringe type. Silver products, whether they are made of pure silver or sterling silver (SV925 or 950) have a tendency to tarnish due to the chemical reaction between the metal and the air. Although, Art Clay products tarnish slower than sterling, a piece made of ST series tarnishes even slower than any other Art Clay series products. A piece made of ST can maintain its shine even longer with regular jewelry cleaning. ST series remains 99% high quality silver after firing. It fires at one setting of 800 / 1472 for 30 minutes.

Clay types
There are two kinds of Clay types with the original formula, the original "Clay type" and "Slow Dry Clay type". The maximum firing temperature of them is 870 / 1598 for 10 minutes, or 800 oC / 1472 for 30 minutes. After firing, the contraction is 9-10%. The piece is reduced to 99.9% fine silver and also can be hallmarked like the 650 series.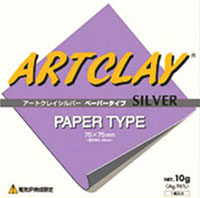 Paper type
It is a unique, paper-thin sheet of silver clay that needs no drying time. You can easily fold, bend, punch or cut shapes with a pair of scissors or paper punches just like you do with regular paper. You can apply techniques from Origami, paper crafting, fabric and leather crafting. It comes in 75mm square sheet, 10 gm of clay with nearly all of the water removed. There other features:

Paper type needs to be fired from a cool kiln, below 150 / 300 and should take at least 15 minutes to reach the temperature.
If you add excess moisture, Paper type will lose its shine and begin to degrade. Fires at 800 / 1472 for 30 minutes.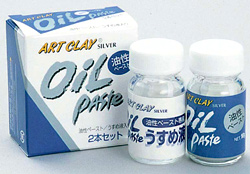 Oil Paste type
Art Clay Oil Paste is an oil-based paste and it is formulated to act as a bond between fired silver pieces. Oil Paste provides a solid weld between pure silver findings, or between two fired pieces. It comes in two separately sealed jars. One has 10gm of the very thick paste, the other contains a thinner that is used to keep the paste at working consistency. Both jars must be kept tightly capped. Silver findings also can be attached to the piece by Oil Paste, and then refried for adhesion. Fires at 800 / 1472 for 30 minutes or 850 / 1562 for 10 minutes.
Art Clay Gold Series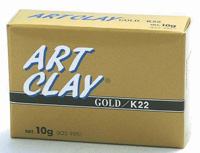 Clay type
Art Clay Gold Clay is water-based gold clay that can be modeled in the same way as the other clay series. It will transform to high quality 22-Karat gold after firing and contracts about 15% during the firing process. Fires at 990 / 1804 for 60 minutes. Available in 5 and 10 gm clay.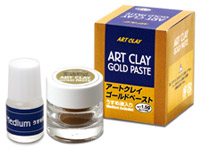 Paste type

Art Clay Gold Paste is in a viscous liquid form, so that you can add texture or draw directly on the surface of Art Clay Silver (fired piece), ceramic, porcelain and/or glass. This product has 77.5% of indicated weight is 24-Karat gold, and it becomes 22-Karat gold after firing. Art Clay Gold Paste comes in two bottles. One has 1.5gm of thick paste; the other contains a 5ml medium that is used to dilute the paste to a more workable consistency on glazed surfaces.
Fires at 800 / 1472 . The holding time will vary depending on the combined material.
| | |
| --- | --- |
| Copyrights © 2016 Art Clay World India | |